Eating Resources For The Elderly
As the world has become more modernized, people are living longer. In the year 1900, the global average lifespan was 31 years. In 2018, average life expectancy in the United States was 78 years.  Living longer can lead to many more enriching and happy experiences, but as anyone who has cared for an aging relative knows, longer lives come with new and challenging physical and mental hurdles to overcome.
Some of the challenges of old age are illness, poverty, losing a spouse, loneliness, and depression.  Physical and mental decline is common among the elderly and can be a significant source of stress  for the individual as well as their caregiver.  Another set of challenges that affects elderly individuals and their caretakers are eating difficulties.
One study examined 520 elderly patients who were in hospital rehabilitation, they found that 82% of the elderly patients had difficulty eating. Some of these difficulties are related to dysphagia (difficulty swallowing), chewing difficulties, reduced taste perception, poor digestion, and reduced appetite. Eating difficulties can make meal times stressful and unpleasant. Our golden years should be a time of joy, enjoying life's many comforts, including eating delicious foods. With a little modification to the way food is prepared and served, you can bring the joy back to eating!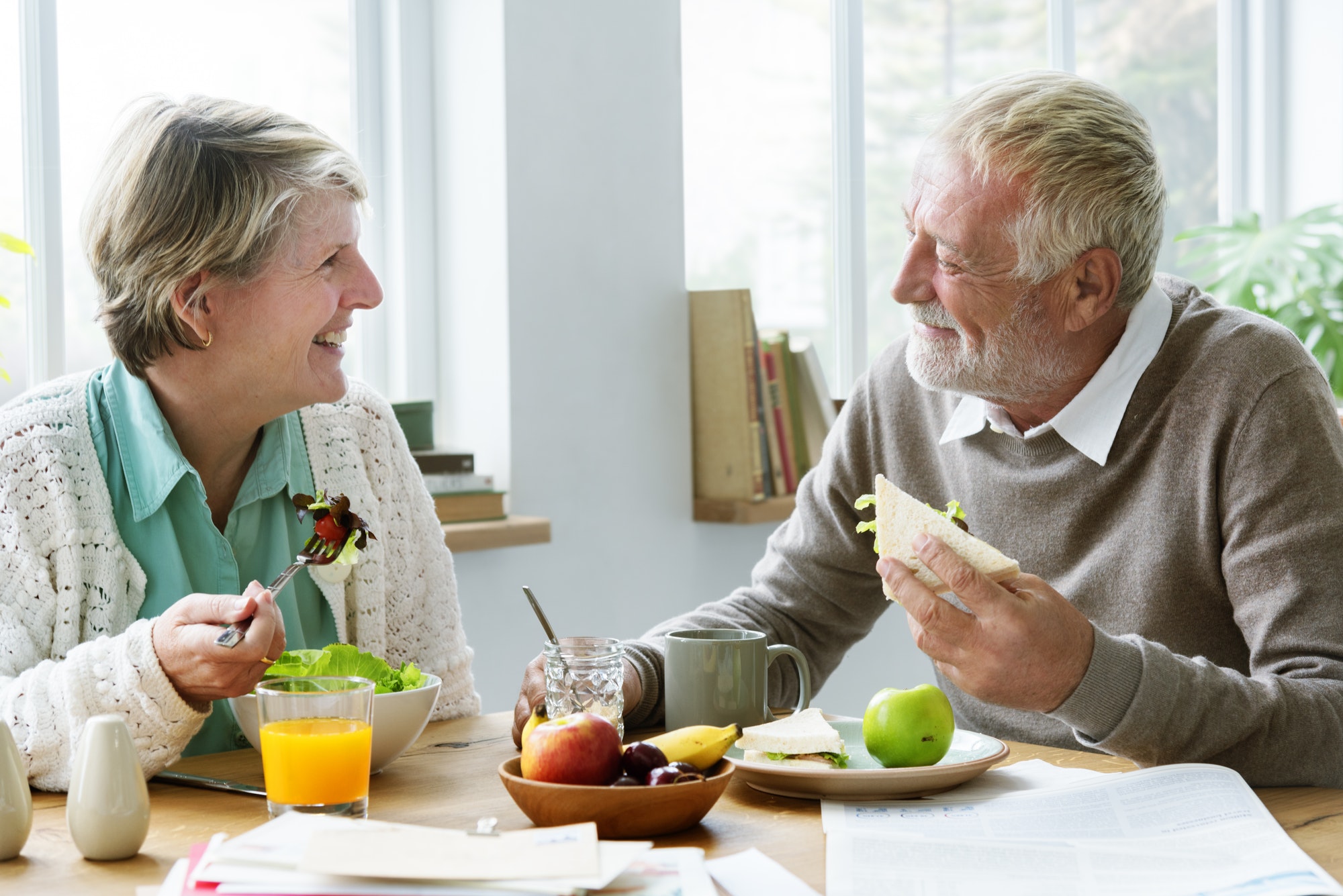 Factors That Make Eating Difficult For The Elderly:
Dysphagia
Chewing Difficulties
Reduced Tastes
Poor Digestion
Reduced Appetite
Dysphagia
Swallowing difficulties, known as dysphagia, affects between 300,000-600,000 people in the United States each year. Up to 68% of nursing home residents are affected by dysphagia. As we age, our muscle mass decreases and tendons and ligaments become less elastic, this decrease and strength and loss of range of motion decreases our ability to swallow (Sura et al. 2012). Certain age related diseases or health conditions, like stroke or dementia, can lead to dysphagia.
Dysphagia can make it difficult to eat foods that are not pureed and to drink liquids that have not been thickened. Those with dysphagia can accidentally aspirate their foods and liquids instead of swallowing it, which can lead to pneumonia. These swallowing difficulties can lead to decreased food and liquid intake, which can result in malnutrition and dehydration.
Physicians, speech pathologists, and dietitians/nutritionists can assess an individual with dysphagia to create individualized diet plans, with proper texture modifications, to endure adequate health and nutrition.
Chewing Difficulties
Reduced Tastes
Poor Digestion
Reduced Appetite
Your Goals When Preparing Meals For The Elderly:
 Every individual's eating situation is unique. Make sure each meal is the proper texture/consistency (as determined by a physician and dietitian). This will ensure full enjoyment of the meal and will help minimize the risks of choking or aspiration.
Ask your physician and dietitian about the specific dietary restrictions/recommendations for your situation.
Easy-To-Chew is a food blog created by a dentist, a public health professional, and a registered dietitian. Their mission? To cook up delicious recipes  dedicated to those who are in need of foods which are easy to chew, easy to swallow, and easy to love!
Some More Easy To Chew Recipes
Helpful Cooking Appliances When Cooking For The Elderly
A crock pot is a simple way to prepare meals in advance. Cooking foods, especially meats, at controlled temperatures for long periods of time makes them easy to chew and delicious!
There is no finer way to puree foods than a Vitamix Blender. It can turn any food into a single, smooth texture which is easy to swallow.
A food processor is a must have for finely chopping, slicing, and pureeing foods. It does all the work for you, which is especially helpful if your age or health status limits your ability to chop and slice foods by hand.